I wrote two chapters entitled "Replacing Your Teeth with Dental Implants" and "Digital Implant Dentistry Makes Perfect."

Read on to learn more about my contributions and how you can get a free copy of the book!
REPLACING YOUR TEETH WITH DENTAL IMPLANTS
In the first chapter, I hope to educate patients and dentists alike about how dental implant surgery can be life-changing, but not just aesthetically; it can increase a patient's overall quality of life.
Patients are often hesitant to take steps towards dental implant surgery because they have misconceptions about the procedures and of pain. This chapter includes positive patient testimonials, some of the basics of dental implants, and the exciting future that dental implants hold. New innovations in implant technology, including the All-on-4 (ReVita Smile) implant treatment, provide optimal patient recovery and comfort.
Digital Implant Dentistry Makes Perfect
The second chapter focuses on the benefits of digital implant technology for patients. I discuss how using CBCT scans, digital impressions, virtual planning software and 3D printers can lead to more accurate, efficient and predictable treatment results. A review of the evolutionary process dentists experience in adopting technology is presented as well.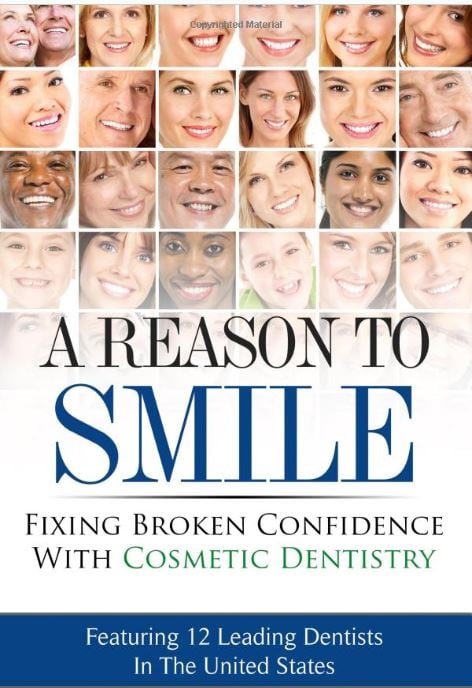 complimentary copy
I am honored to be a part of such an engaging dental publication that will change the way patients feel about cosmetic dentistry through honest advice and educational resources.
While A Reason to Smile: Fixing Broken Confidence with Cosmetic Dentistry is available for purchase on Kindle and paperback on Amazon, we are offering a complimentary copy (while supplies last) of the book to patients who schedule an All-on-4 consultation!
---
Dr. Scott Frank is an expert on oral surgery services and specializes in dental implants and All-on-4. Since opening his practice in 1988, Dr. Frank has served thousands of patients in the north and northwest Chicago suburbs with compassion, dedication, and surgical excellence.
Learn more about dental implants and All-on-4 at North Shore Smile Surgery!