If you're having a hard time due to tooth pain or missing teeth, the solution you seek could be in the form of dental implants. If you've done a little research, you've probably heard of All-On-4 or All-On-6 implants; two of the most popular types of dental implants. But, what's the difference between the two and which one is right for you?
Let's start by defining what exactly the difference is between All-On-4 implants and All-On-6.
The Difference Between All-On-4 And All-On-6 Dental Implants
All-on-4 dental implants are implants that are put into place with four screws into the jawbone of the patient via a surgical procedure. All-On-6 are—I'm sure you've already guessed it—implemented using six dental implants to support an arch of teeth. Both accomplish the same things when all is said and done, but the difference is in the execution.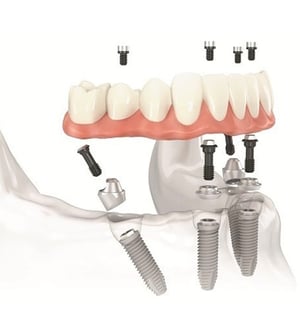 The most notable difference between all-on-four and all-on-six dental implants is the number of implants that are needed and that the All-On-Six implant procedure requires more bone and, therefore, demands more bone strength compared to the all-on-four.
While it's possible that the All-On-4 procedure could necessitate a bone graft (depending on the patient), All-On-6 implants generally require bone grafts to function because of the added implants and the fact that it requires more jawbone and jaw strength.
Why We Recommend All-On-4 Implants
All-On-Four dental implants are more popular compared to all-on-six because they require a minimum number of implants while offering you the same full arch of teeth. This leads to many benefits that you can't get with an All-On-6 procedure.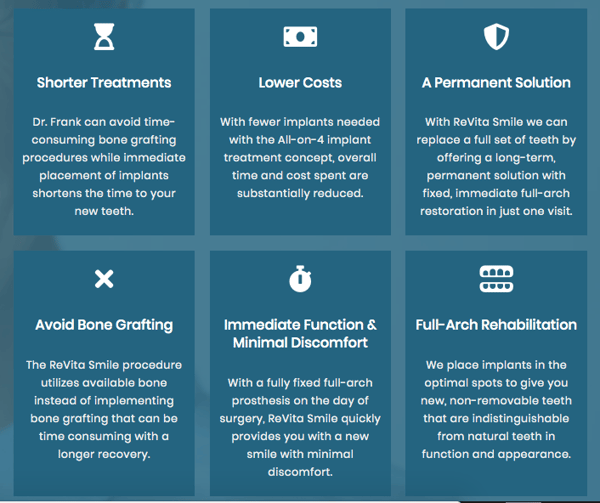 The advantages of All-On-4 Dental Implants
Since All-On-4 requires less jaw bone to perform, the chances of needing a bone graft to complete the procedure is significantly less than All-On-6. This has a domino effect that results in a shorter operation, a quicker recovery time, and a cheaper overall cost.
The lack of a bone graft also means you can get back to your normal life quicker. All-On-4 implants are able to provide immediate function with very little discomfort.
---
If you have more questions about All-on-4, read our eBook or schedule an appointment with us today!