In order to ensure the safety of our patients, the surgical team, and everyone's families, North Shore Smile Surgery has implemented the Enhanced Patient Protection Plan (ePPP), which closely follows CDC and OSHA guidelines.
We wear the highest level of PPE, including N95 masks, eye protection, face shields, as well as disposable caps and gowns. We are following strict disinfection protocols and have equipped each treatment room with air disinfection units utilizing supraHEPA filters.
We have also implemented social distancing techniques such as utilizing video consultations and digital consent forms.
As an oral and maxillofacial surgery office, we understand and embrace our responsibility to the public and dental community. Our aim is always to provide the highest level of care for our patients.
Please continue reading to learn about the different ways we are helping to prevent the spread of COVID-19.
---
AIR DISINFECTION
In order to protect ourselves, our patients, and the greater community against respiratory viruses, we have implemented measures to purify and decontaminate the air. Here's how we're keeping our air safe:
Using a hospital rated 4 stage HEPA 13 filtration system to remove 99.95% of particles down to.003 microns removing viruses from the air we breathe (including COVID-19).

Barrier doors that allow for individualized air decontamination in each surgical suite.

Air cleaned every 5 minutes to improve the safety of everyone in the office.

Separate sterilization area to decrease the potential for dispersion of viruses and bacteria.

Five minute decontamination process to renew every treatment room and surgical suite for the next patient.

Private entrance and exit available for surgical patients resulting in shorter in office waiting times for family members and their escorts.

Instruments decontaminated and sealed prior to transportation between surgical suites and sterilization, minimizing the spread of viruses and bacteria outside of the surgical suites.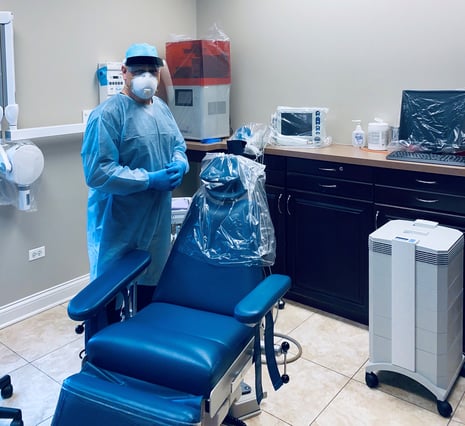 Dr. Frank in a decontaminated treatment room with the air disinfection unit
Advanced Personal Protection Equipment (PPE)
To protect against cross contamination between our team, our patients, and anyone else who enters our office, we're practicing the following procedures:

Wearing advanced color coordinated PPE (which provides protection against viruses and bacteria) including:

N95 or similar mask
Full face shields and protective eyewear
Full length disposable gowns

Using the don and doff protocol for patient protection
Utilizing individualized surgical suites with barrier doors to ensure patient safety and ultimately decrease the risk of cross contamination.
Disposing PPE after each patient in the office to maximize patient protection.
Providing a mask to patients to wear in the office for their comfort and security.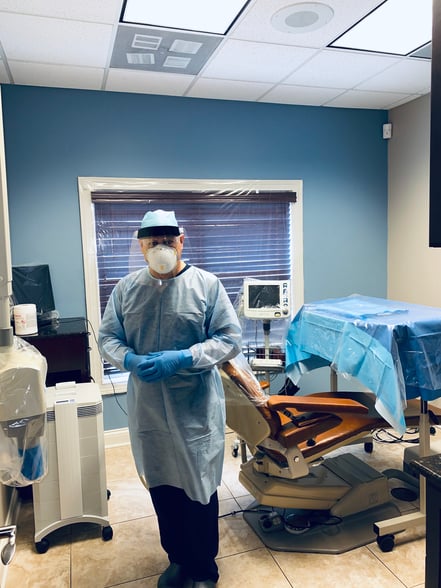 Dr. Frank wearing N95 mask, face shield, and other PPE equipment
social distancing measures
By following the social distancing measures recommended by the CDC, we decrease the transmission of viruses between individuals. Here's how we're implementing this at North Shore Smile Surgery:
Allowing patients to wait in their cars and text on arrival to minimize the number of people in the office at the same time and to increase personal safety.
No touch temperatures obtained on all who enter the office.
Plexiglass barriers to create an additional layer of protection where 6 feet of separation is not possible to maintain separation.
Pre-screening of all individuals entering the office, including our team, to decrease the risk of spreading COVID-19.
Provide patients with individualized spaces to decrease their risk of exposure.
Medical history, registration and patient screening forms shared digitally with a patient prior to their arrival.
No touch technology and teledentistry to decrease a patient's physical contact prior to surgery.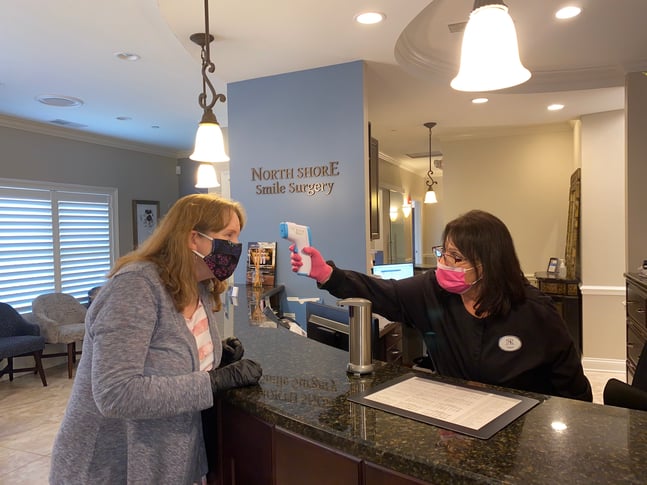 Patient Care Coordinator Janet Iovinelli taking a team member's temperature using a no touch thermometer
---
At North Shore Smile Surgery, Dr. Frank and the team believe that by aggressively managing air quality, using advanced personal protection, and implementing social distancing measures, we can provide the level of safety consistent with our commitment to the highest level of patient care and experiences. Our desire is for you to know what we are doing to protect you so together we can focus on achieving the outcomes you expect and deserve.
For those that prefer, we offer virtual consultations.
If you have any questions, don't hesitate to contact us!