Tooth loss can significantly affect the appearance of your smile as well as the functionality of your remaining teeth. Fortunately, there are several dental options for replacing missing teeth. For the best results, ensure you choose the tooth replacement solution that is right for you. Today, All-on-4 dental implants are becoming increasingly popular owing to the benefits they offer over conventional tooth replacement methods. However, before undergoing this treatment, you have to find out if you are a good candidate and choose the right oral surgeon for the procedure.
Here's what you need to know.
AN OVERVIEW OF THE ALL-ON-4 PROCEDURE
To establish whether you are an ideal candidate for this dental implant technique, you need to know what the procedure entails. Simply put, this solution involves the strategic implantation of four titanium posts into the jawbone to restore an entire arch. The prosthetic teeth will look, feel and function like your natural teeth, effectively helping to solve the problem of missing teeth. As such, you will be able to speak, smile and bite naturally.
ARE YOU A GOOD CANDIDATE FOR ALL-ON-4?
Now that you are familiar with the All-on-4 procedure, the next step is to determine whether the treatment option is right for you. Below are some factors to consider when you want to find out if you are an ideal candidate for full arch dental implants.
• Age requirement: To be a good candidate for All-on-4, you should be at least 18 years old. This is because the procedure requires a fully developed jaw to ensure the implants remain in the proper position for many years. If your jaw is still growing, the bone structure may continue to change after surgery, something that could lead to treatment failure.
• Extent of tooth loss: Full arch dental implants are designed to replace a whole row of missing teeth. For people with only one or a few missing teeth, one or two dental implants may be a better choice. As such, you should consider this treatment option if you are missing most or all of your teeth due to decay or injury.
• You have experienced some jawbone loss: If you suffer from jawbone loss or have advanced gum disease, you may be ineligible for traditional implants. With All-on-4, your oral surgeon will have the leeway to select areas with the highest bone density to insert the four implants. However, there should still be decent jawbone density to support the implants.
• You are in good health: To undergo this procedure, you must have good oral and general health. This will go a long way in reducing the risk of complications and implant failure. Similarly, health conditions like diabetes or osteoporosis will make it difficult to do dental bone grafting if the procedure needs to be performed.
At the end of the day, candidacy for all-on-4 is determined on an individual basis. As such, the best way to find out if this treatment option is suitable for you is to consult a qualified dentist or oral surgeon. The dental expert will evaluate your smile to establish whether you should get full arch implants.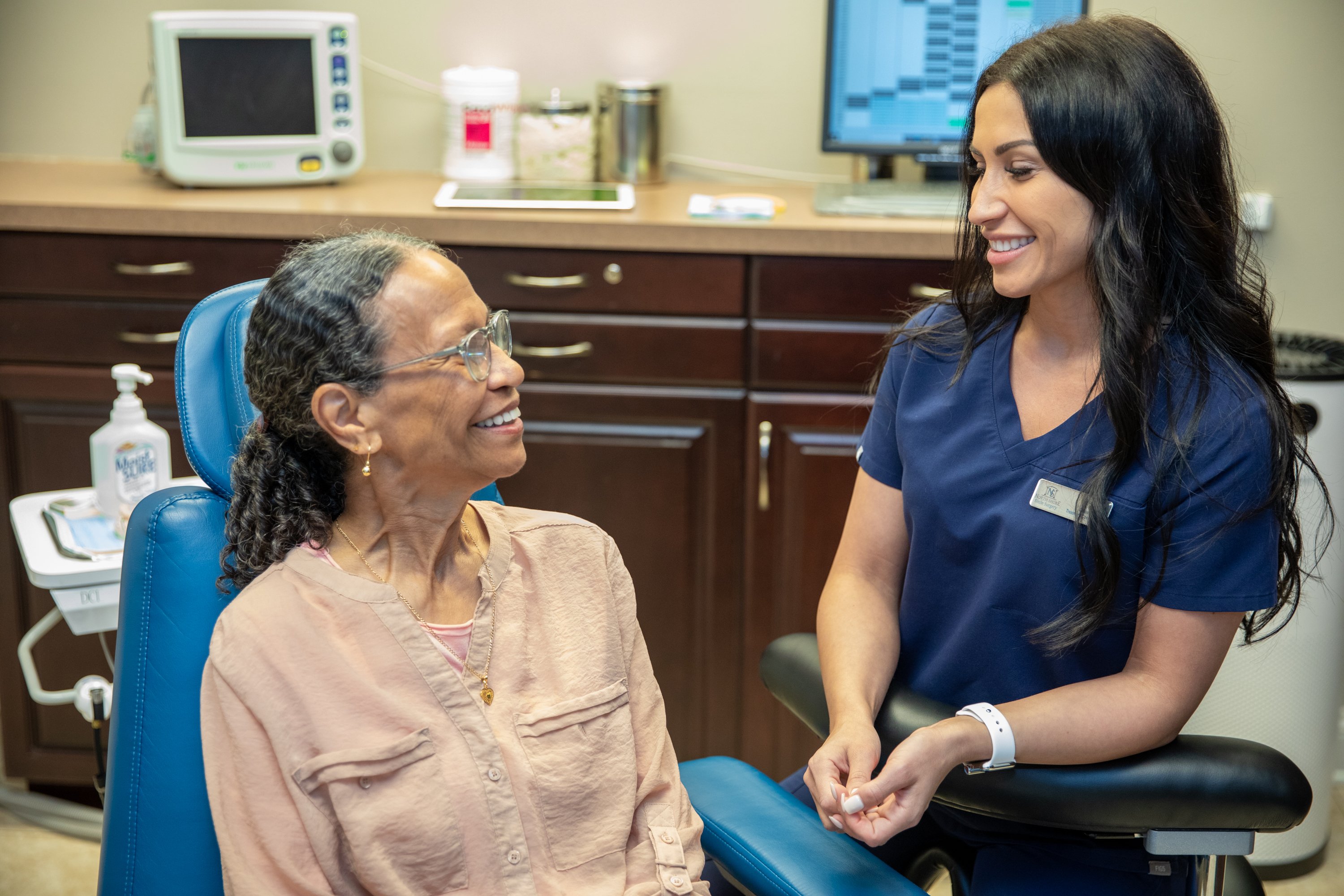 HOW NORTH SHORE SMILE SURGERY CAN HELP
The importance of choosing the best oral surgeon for an All-on-4 procedure cannot be denied. Installing full arch implants requires knowledge, skills and an eye for detail. Dr. Frank has the expertise and experience required to deliver quality work. In addition, we use advanced dental technology to enable us to make better decisions, realize better outcomes and provide you with the best that the industry has to offer. At North Shore Smile Surgery, we have built a reputation for helping our patients achieve excellent results.
THE BENEFITS YOU WILL ENJOY WHEN YOU WORK WITH US
We are committed to helping you enjoy the benefits associated with this treatment method. Here are a few benefits of full arch dental implants at North Shore Smile Surgery.
• Quick procedure: Because the bridge is held in place by just four implants, we do not need to install individual implants for each missing tooth. Also, the specialized implant design enables us to avoid bone grafting, so we can ensure shorter treatment times. The procedure will be completed within a day, effectively replacing your entire set of missing teeth, restoring your smile and improving your quality of life.
• Affordable dental restoration: We know that cost is an important consideration when choosing a tooth replacement solution. Unlike traditional dental implants, fewer implants are needed when it comes to All-on-4. This translates to lower treatment costs. We also accept various insurance plans and have monthly payment plans to make your treatment affordable.
• Enjoy immediate results: When you choose us for All-on-4 treatment, you can be sure of quick results. Unlike other tooth replacement options, this procedure requires only one surgery to restore your smile and the functionality of your teeth. The good news is that we help you get a new smile with minimal discomfort.
• Avoid bone grafting: When performing the procedure, Dr. Frank will utilize the available bone. This reduces the need for bone grafting, which is not only time-consuming but will also add to the cost of treatment. Avoiding bone grafting also helps to reduce your recovery time.
• A permanent solution: We will place the implants in optimal spots and ensure your prosthetic teeth look, feel and function like your natural teeth. The replacement teeth are permanent and no denture adhesives will be required. The implants will not loosen or shift, offering a long-lasting solution for your missing teeth and ensuring easy maintenance of the All-on-4 system.
• We minimize dental visits: To help save you time and money, we strive to minimize dental visits. When you choose full arch implants as your preferred tooth replacement solution, all the procedures will be completed in a single visit. Mostly, you will need to come to our office only for your consultation and on the day of surgery. After that, there will be no additional surgeries and minimal follow-up appointments. This makes All-on-4 a good option if you have dental phobia.
---
Have you suffered significant tooth loss and are not sure about the type of treatment that will suit your needs? North Shore Smile Surgery can help.
Dr. Scott Frank is a passionate, experienced and skilled oral surgeon specializing in the All-on-4 treatment concept. Visit with us today by scheduling an appointment.