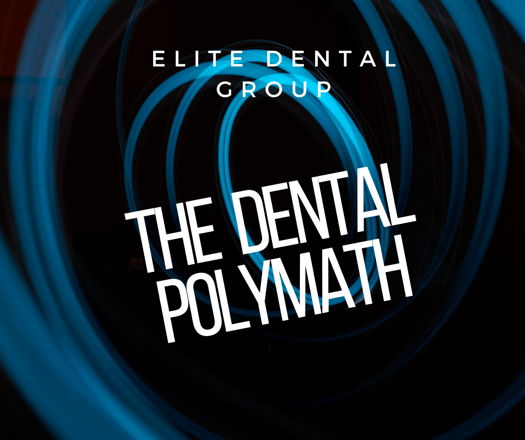 Now in our 16th year as a study club, we're proud to announce the theme for 2020-2021: The Dental Polymath.
Our aim is to make you feel comfortable calling yourself a "polymath" by the end of the year and thereafter.
WHAT IS A POLYMATH?
A polymath is defined as "a person of wide-ranging knowledge or learning. " It refers to an individual whose knowledge spans a significant number of subjects and is known to draw on complex bodies of knowledge to solve specific problems.
polymaths in history
Aristotle (382 BC–322 BC) was a polymath who made fundamental contributions to diverse fields of study, including logic, rhetoric, ethics, physics, story, poetry, government, metaphysics, geology and zoology.
Leonardo da Vinci (1452–1519), another polymath, was the archetypal renaissance man and his list of accomplishments is staggering. As an artist, he was the father of the high renaissance style, having painted the 'Mona Lisa' and 'The Last Supper.' Applying observations made in his scientific endeavors, da Vinci introduced the idea of painting with aerial perspective. Da Vinci also made contributions to many other fields: urban planning, mathematics, botany, astronomy, invention, history, sculpting and cartography.
Da Vinci left us with some great advice on how to be successful, most of which comes from his journals:
Action

"It had long since come to my attention that people of accomplishment rarely sat back and let things happen to them. They went out and happened to things."

Experiment

"Experience does not ever err. It is only your judgment that errs in promising itself results which are not caused by your experiments."

Goal-setting

"Obstacles cannot crush me. Every obstacle yields to stern resolve. He who is fixed to a star does not change his mind."

Time prioritization

"Time stays long enough for anyone who will use it."

Focus

"As every divided kingdom falls, so every mind divided between many studies confounds and saps itself."
IMPROVING OURSELVES AND OUR PRACTICES
From its inception, the Elite Dental Group has adopted the Seattle Study Club philosophy of leading members to become "complete clinicians." In addition to increasing our knowledge of biology, structure, function and esthetics in dentistry, we incorporate non-clinical learning opportunities to improve our business, financial management, health, wellbeing and personal development.
Gaining vast clinical and non-clinical knowledge in all aspect of dentistry is a lifetime process requiring passion, determination and commitment. In 2020-21, members will continue the quest to become The Dental Polymath. We will strive to bring the best of what dentistry has discovered from across all fields and specialties to be more effective in our patient care and practice.
CREATING the dental polymath
To develop The Dental Polymath, we will create and encourage:
Quality Inputs

Acquire understanding from quality content like journals, speaker presentations and workshops.
Gain unequaled knowledge through interactive learning and sharing via member participation.

Reflection

Reflect on your learnings every week, month and year.
Set short-term and long-term goals.

Experimentation

Learn by doing. Spend more time in practice applying the acquisition of knowledge.
addressing covid-19 + virtual programming
In the coming year's program, we will address unique challenges encountered due to the COVID-19 pandemic. COVID-19 issues will be incorporated into multiple sessions throughout the year which will allow us to stay current.
While some programs are scheduled to be in a virtual (Zoom) format, any of the physical events may be easily converted to a virtual format if needed.
The ability to modify our programs will allow for many benefits:
Convenience

Virtual (Zoom) meetings will allow more members to attend more programs in the comfort of their own office or home.

Predictability

High likelihood that programs will occur as scheduled due to ability to convert to a virtual format.

Interactive Format

Whether in-person or virtual, member interaction will be optimized.
reduction in membership fee

As we have all been financially impacted by the pandemic, the Elite Dental Group has aggressively addressed club costs. This will lead to a decrease in member annual tuition from $2345 to $1685.

Despite this, doctors can still get up to 28 CEUs this academic year.

The 2020-2021 Elite Dental Group program is unique and creating much enthusiasm. I look forward to another year of exceptional learning with colleagues and friends… both new and old!
---
Become a polymath in a broad range of dental subjects, whether it's leading your team to success or sharpening your treatment planning skills, by joining the Elite Dental Group today!